Indigenous Education Partnership Program Recipient 2019 - Waylon Auger
Indigenous Education Partnership Program Recipient 2019 – Waylon Auger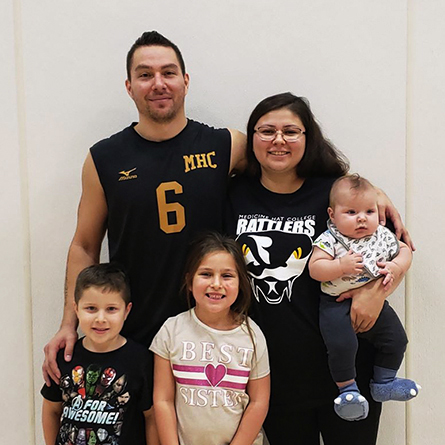 Waylon is pursuing a Bachelor of Education degree, specializing in elementary education at Medicine Hat College. His undeniable passion for sports, coaching, and community inspired his decision to pursue a career in education.
As a proud member of the Métis Nation of Alberta, Waylon is taking several courses related to Indigenous histories and cultures. He is also working towards completing the National Coaching Certification Program while playing on the Medicine Hat College volleyball team.
Waylon is very involved in the development of youth sports programs in his hometown, Wabasca, Alberta. He has founded community club programs in volleyball, basketball, and floor hockey, conducted physical education classes, and coached youth sports teams. Upon completing his degree, Waylon plans to continue to share his passion for sports by teaching physical education in Wabasca.
Through the Indigenous Education Partnership Program, Waylon has received full tuition for his post-secondary program. As a father of three, the program will help alleviate the financial burden of pursuing a post-secondary education while raising a family. The program also enables Waylon to bring his family to Medicine Hat with him to complete his four-year degree program.
"I would like to thank Al-Pac for selecting me for the Indigenous Education Partnership Program. This program has made it possible for me to pursue a career in education and fulfill my dream of playing collegiate athletics again. With my tuition paid for, I can focus on providing for my girlfriend, Tori, and my three children, Leilani, Dominic, and Kawhi."